Tourist Edition
Tourist Edition
Get the Tourist Edition of The Walking Dead: Saints & Sinners and you'll receive three unique weapon recipes, collectible voodoo dolls, the game's soundtrack, and The Supernatural Skeptic's Guide to New Orleans companion piece.
Meatgrinder Güncellemesi
Meatgrinder Güncellemesi

"Çanlar çalıyor. Ölüler her yerde. Etrafta senden başka tek bir canlı bile yok. Şimdi, Meatgrinder'la yüzleşme vakti. The Walking Dead: Saints & Sinners'a gelen bu yeni güncellemede, yaşayan ölülerle savaşmanın yepyeni yollarını keşfedeceksin.

Oyundaki tüm silahların açılabildiği, dayanıklılık ve can takviyelerinin bulunduğu Trial'da zekân, becerilerin ve elinden geldiğince üretebildiklerin, amansız yaşayan ölü dalgalarına kafa tuttuğun bu kaosta can yoldaşların olacak. Savaşacağın arenayı seç, yaratıcı öldürme şekilleriyle puanları topla ve ne kadar süre hayatta kalabileceğini gör.

New Orleans'da rahat bir yürüyüş ister misiniz? Yoksa kendinizi her koşulda zorlu bir hayatta kalan olarak mı görüyorsunuz? Hikayeye gelen yeni zorluk seçeneğini seçin ve yaşayan ölülerle mücadeleye yeni bir hayat verin.

Son olarak, yeni katana görünümü ""Absolution"" ile kendini kıyamet sonrası bir samuray olarak kanıtla. Karşına çıkmaya cüret edenleri ince ince kıyarken tarzından ödün verme, olanca havalılığınla günahlarını bağışla.

Tüm bunlar ve daha fazlası, Meatgrinder'da seni bekliyor."
Oyun Açıklaması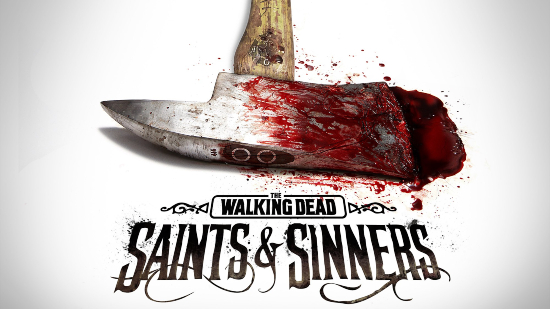 LIVE The Walking Dead
Saints & Sinners is a game unlike any other in The Walking Dead universe. Every challenge you face and decision you make is driven by YOU. Fight the undead, scavenge through the flooded ruins of New Orleans, and face gut-wrenching choices for you and the other survivors. Live The Walking Dead's dark drama in your own skin.
Survive YOUR Way
A new way to live survival horror. With the living, dead, disease and famine as constant threats, you have countless ways to tackle these dangers.
Face the undead guns blazing or learn all the ways to sneak and hide among them.
Take on missions from different factions and survivors to earn valuable resources.
Risk life and limb to protect those in need or brutally murder anyone who stands in your way.
See how your choices affect the people of New Orleans, and learn to live with the consequences.
A New, Brutal Story
New Orleans is at war. The living are not just fighting the dead, but also inflicting pain and brutality upon each other. As bodies pile up between warring factions, whispers spread of a long-lost mystery in the city that could turn the tide of the war. Will you be able to survive while caught in the middle of this conflict? Can you unravel the mystery that is behind it all? The fate of the city and its survivors rests in your hands.
A Vast World To Explore in VR
Crafting, exploration, freedom of choice and visceral combat make this a deep, 15+ hour game built for VR.
Cut down both the dead and the living with an arsenal of melee, ranged and makeshift weapons, all physics-based objects you can realistically wield.
Knock walker heads clear off and rip out weapons impaled in their skulls.
Creep through ruined streets and creole mansions to scavenge for supplies and secrets.
Scale the sides of buildings, cars, and walls to ambush enemies from above or make a quick escape.