Isekai of Wonderlucia, the world where only the streaming technology is developed.
Let's get into a steamer-adventurer in isekai, and have fun a dungeon crawl listeners in theirs way and the cat!
Getting into streamer-adventurer
You can choice reply on listeners' comments from several alternatives. The better quality of a reply, the many "Like"s you get.
You also reinforce skills, weapons and armors by spending "Like"s.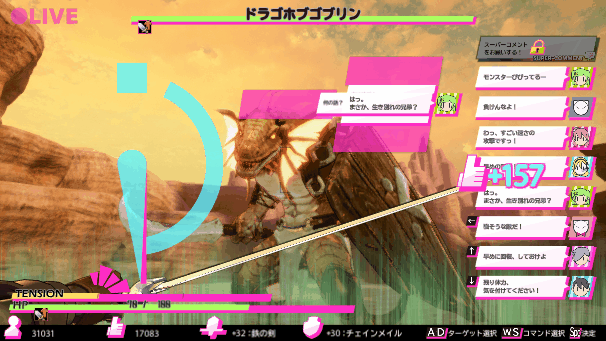 Narrative-active command battle
Dungeon exploration requires encounters and battles with the enemies. During the fight, you will be fighting the opponents thorugh active command battle system. You can shorten stand-by time by great replies on comments, so your streamer skill divides these!
In exciting struggles of boss monsters, comments flow extremely fast like a torrent! You become one with your listeners, and confront mighty foes!
Crawling the beautiful dungeons
From the forest full of nature to the ruin full of bizarre artifacts, you crawl characteristic dungeons from a first-person perspective.
The locations these places dotted with are photogenic, and of course you cat get many "Like"s from your listeners!