Kungfu Cowboy is a quirky, challenging run 'n' gun platformer with roguelike elements.
TRAVERSE through different worlds with your gang! 2-4 player online coop, 2-player local coop or single-player.
Or BATTLE it out to be the last Kungfu Cowboy standing in the new 10-player online PvP mode or 5v5 team mode!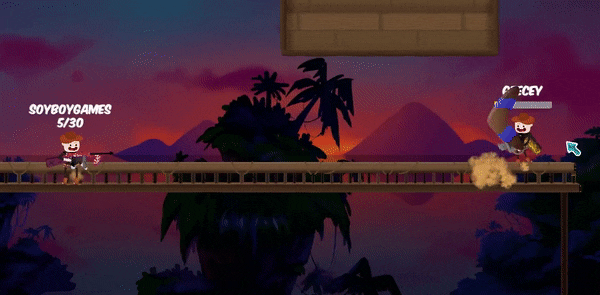 DEFEAT formidable bosses who chase you to your doom & face challenging obstacles where you must act on your quick kungfu reflexes to make it out alive.
CUSTOMIZE your build by stacking synergizible weapon upgrades & acquire powerful "gunfu" abilities that make you stronger and more invincible throughout your run.
SHOOT, DASH & DODGE! Master these three skills and earn your title of a Kungfu Cowboy!
Additional Key Features
Unlock HARD Mode: tougher enemies, trickier platforming and more chaos!
Infinite Replayability: Enemies, levels and upgrades are randomly generated which makes every run unique and offers fresh gameplay.

Precision-based Shooting: Test your shooting accuracy as you aim for precise headshots which deal more damage than body shots.
Kungfu Invincibility: Swiftly kungfu dash through enemy attacks and platforming obstacles to avoid taking damage.

Full Controller Support: Classic twin-stick controls, but with a twist! Left analog stick and bumper controls movement: dash, jump and run. Right analog stick and bumper controls shooting and aiming.
For the best gameplay experience, we recommend playing with keyboard and mouse. If playing on controller, we highly recommend playing with the default twin-stick controls for optimal gameplay. *This game is online only: you must be connected to the internet to play*