Hunter of the Disowned is a dungeon adventure of mysteries and legends where gods and animals are destined to serve and destroy as your quest for the cursed relics with your enchanted bow are the key to changing your disastrous destiny. Take on this endless series of shots in massive battles against endangered enemies, challenges and hidden traps in different landscapes, rescue endearing characters, discover precious treasures and unique stories and redeem your survival paths with expert merchants. Set in a magical world inspired by the traditional northern Chilean culture and folklore.
BOW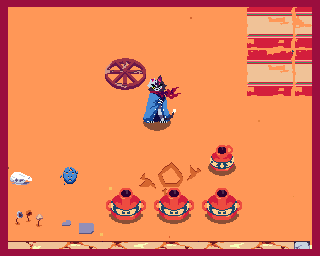 Use your bow to defend yourself from the enemies and get resources. This is a fast weapon with unlimited ammunition. Get used to shooting, your bow will be your ally to survive in the dungeons.
DASH
This function is useful to move quickly from one point to another, helping you to avoid enemies attacks. Training may be required to master this skill since it has a cooldown time, use this power wisely.
PUZZLES
In order to pass through some rooms you must manipulate the environment by solving small puzzles. As you go through the different dungeons, puzzles will vary and increase its level of difficulty.
COLLECT
There is some lost figures you can collect throughout your journey. These figures are unique and may be challenging to find them, make sure to search properly on every dungeon.
BOSSES/DUNGEONS
There will be a total of five dungeons (just 1 available on early access version), each of them has a particular setting based in Northern Chile, its flora and wildlife. Venture through the lands of the driest desert in the world and defeat a different boss with special powers at the end of every dungeon.
Characteristics
Perma death
Procedural Generation of Dungeons.

Collect unique and secret figures.
Dozens of different room types

Enemies, bosses and environment based on the culture and natural landscape of Northern Chile.